Daddy's Gone A-Hunting
By Harold Connolly
Liz and Simon are living in wedded bliss: well maybe bliss is an exaggeration given that newborn baby Max has caused upheaval in their tiny ninth floor flat. Liz puts her feet up to enjoy some me time as Simon and his sister Rebecca make a duty call to see his mother. She is rudely interrupted by a figure from her past. - Tony, who seems seems intent on wreaking havoc in their lives… Then things take an even more interesting and sinister turn.
Cast
Liz Astrid Stevens
Simon Angus Draycott
Rebecca Hannah O'Sullivan
Tony Tom Platts
Directed by Rosemary House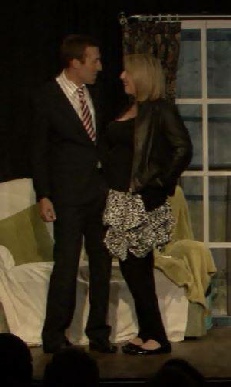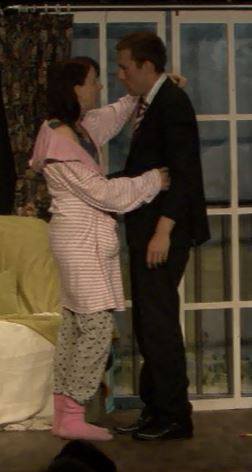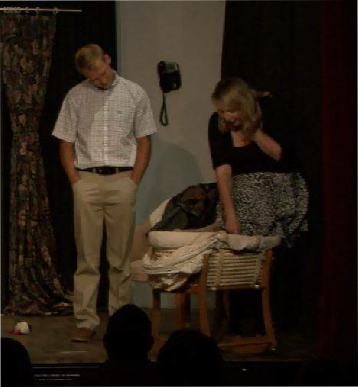 Stop and Run
By Diana Raffle
When Eileen Dodds sent her husband out to get a portion of chips and two pickled eggs she never suspected he would run off with the shop owner and not be seen for five years - but that's exactly what happened! Thirty years later Eileen has decided to take her life back into her own hands and much to the surprise of her daughters Jackie and Tracey she has returned from holiday with Raymond a blind bingo caller who she intends to marry in a week's time.
But is Raymond only after her money? Will Eilleen find true happiness?
Cast
Tracey Helen Goodwin
Jackie Helen McCutcheon
Eileen Sue Clark
Raymond Ian Miles
Kevin Mike Foster
Directed by Ian Miles
An Evening of Two One-Act Plays
Click on pictures to enlarge